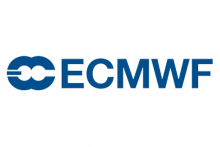 About the Organisation
The European Centre for Medium-Range Weather Forecasts (ECMWF) is an international organization supported by 34 States: 23 Members (Austria, Belgium, Croatia, Denmark, Estonia, Finland, France, Germany, Greece, Iceland, Ireland, Italy, Luxembourg, the Netherlands, Norway, Portugal, Serbia, Slovenia, Spain, Sweden, Switzerland, Turkey and the United Kingdom) and 11 Co-operating Members (Bulgaria, Czech Republic, the former Yugoslav Republic of Macedonia, Hungary, Israel, Latvia, Lithuania, Montenegro, Morocco, Romania and Slovakia). ECMWF's principal objectives are the preparation, on a regular basis, of medium-range and long-range weather forecasts for distribution to the meteorological services of the Member States, the development of scientific and technical research directed to the improvement of these forecasts, and the collection and storage of appropriate meteorological data ECMWF's strategy includes the principal goals to provide reliable forecasts of severe weather across the medium-range and high-quality, near-surface forecast products focusing on areas such as precipitation, wind and temperature. ECMWF's computer facility includes supercomputers, archiving systems and networks. ECMWF is the entrusted entity for the Copernicus Climate Change Service and the Copernicus Atmosphere Monitoring Service. The Copernicus Climate Change Service responds to environmental and societal challenges associated with human-induced climate change. The service will give access to information for monitoring and predicting climate change and will, therefore, help to support adaptation and mitigation. It benefits from a sustained network of in situ and satellite-based observations, re-analysis of the Earth climate and modelling scenarios, based on a variety of climate projections. The service will provide access to several climate indicators and climate indices for both the identified climate drivers and the expected climate impacts. The Copernicus Atmosphere Monitoring Service provides continuous data and information on atmospheric composition. The service consists of daily global forecasts of atmospheric composition, daily forecasts of European air quality, global and regional reanalyses, as well as services on solar radiation, greenhouse gases and emissions. 
Role in CoCO2
ECMWF coordinates the CoCO2 project, leads WP 8 User engagement and co-leads WP 3 Global Modelling and data assimilation and WP 6 Integration, testing, application and initial validation of prototype systems. The coordination role covers the international liaisons of the CoCO2 project and the project management activities within the consortium. The links between CoCO2 and the international CO2 community for both the science and programmatic levels is an essential part of capacity-building effort.